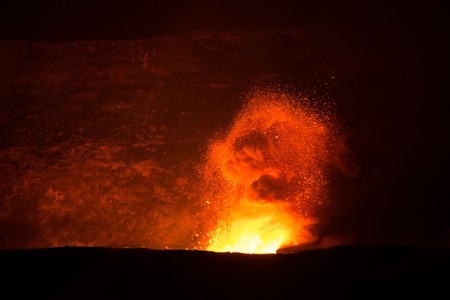 The Asia Oceania region is home to over 700 volcanoes active during the past 10,000 years, and is host to the largest share of the world's populations. Volcanic phenomena, the science of volcanology, and the impacts of volcanism on the natural and human environment are at the same time fascinating as they are of imminent societal relevance: Volcanic eruptions and their associated hazards affect over 10% of the world's population and interdisciplinary research is crucially important to improve hazard assessment and communication, monitoring, forecasting, and mitigation.
Indonesia experienced two damaging tsunamis in 2018. On September 28, 2018, a Mw 7.8 earthquake occurred near Palu in central Sulawesi. It lead to a large tsunami that destroyed coastal communities around Palu and devastating landslides and areas of liquefaction. Both the tsunami and landsliding in Palu were far larger than expected from the type of fault rupture that created the earthquake and the geomorphology of the embayment. Later in 2018 a volcanic tsunami occurred that was likely generated by a large collapse at Anak Krakatau, Sunda Strait. This thematic series will present new findings from fieldwork, modeling, historical analysis and other investigations into how the natural hazards observed at Palu Bay and around Anak Karakatau were generated, the effects on the ground and on the communities and the process of rebuilding after the event.

Guest Editor guidelines
Upcoming conferences
AOGS2020 - VIVALDI PARK SKI RESORT, HONGCHEON
The 17th Annual Meeting of the Asia Oceania Geosciences Society (AOGS)
28 June - 4 July 2019
For more information see www.asiaoceania.org
Geoscience Letters accepted for indexing in Scopus
We are delighted to announce that Geoscience Letters has been accepted for coverage in Scopus. This marks an important milestone in the history of the journal and we look forward to the journal's continued success in the future.
Thematic series in Geoscience Letters
Aims and scope
Geoscience Letters is the official journal of the Asia Oceania Geosciences Society, and a fully open access journal published under the SpringerOpen brand. The journal publishes original, innovative and timely research letter articles and concise reviews on studies of the Earth and its environment, the planetary and space sciences. Contributions reflect the eight scientific sections of the AOGS: Atmospheric Sciences, Biogeosciences, Hydrological Sciences, Interdisciplinary Geosciences, Ocean Sciences, Planetary Sciences, Solar and Terrestrial Sciences, and Solid Earth Sciences. Geoscience Letters focuses on cutting-edge fundamental and applied research in the broad field of the geosciences, including the applications of geoscience research to societal problems. This journal is Open Access, providing rapid electronic publication of high-quality, peer-reviewed scientific contributions.

Geoscience Letters accepts three types of manuscripts: Research Letters (concise reports on original research, approximately 3,000 to 5,000 words), Letters to the Editors (brief reports, comments on and/or replies to the published papers in 300 to 800 words), and Reviews (up to approximately 10,000 words). The word counts include figures, which are counted as 200 to 500 words each, depending on the size.
ISSN: 2196-4092 (electronic)