Hazards and disasters in the Anthropocene: some critical reflections for the future
Geoscience Letters
Official Journal of the Asia Oceania Geosciences Society (AOGS)
2018
5:7
Received: 31 October 2017
Accepted: 22 February 2018
Published: 1 March 2018
Abstract
The arrival of the Anthropocene presents many challenges—both theoretical and practical. Scholars in different disciplines, practitioners, the public and others, are all considering the meaning of the Anthropocene and how its arrival affects their ways of knowing and doing. Given that a dominant narrative of the Anthropocene is one of a coming crisis, hazard, and disaster experts from different disciplines have much to contribute. Here, I briefly summarize the trajectory of hazards' and disasters' research through to the present to provide the context to ask a series of critical questions that experts in hazard and disaster might address to make theoretical and practical contributions to making the Anthropocene as good as it might be. The questions considered are: how useful is the contemporary crisis narrative of the Anthropocene for understanding the planetary history of hazards and disasters, and coupled to this; is the modern language of disaster risk reduction useful for understanding past disasters; how do we give voice to the more-than-human experiences of Anthropocene disasters; is it possible to mitigate the impacts of future hazards and disasters within the Anthropocene without addressing the root causes of vulnerability; how do we make space for slow emergencies and what do slow emergencies mean for understanding hazard and disaster in the Anthropocene; and finally, does the scholarship of hazard and disaster provide evidence useful for informing the debate about an early or late-start for the Anthropocene?
Keywords
HazardsDisastersEmergenciesAnthropoceneDisciplinary contributionsCritical questionsFuture
"The bright sun was extinguish'd….. And men were gathered around their blazing homes…. Of the volcanoes, and their mountain-torch; a fearful hope was all the world contain'd……. Famine had written Fiend….. Darkness had no need of aid…… She was the Universe"(Darkness, Lord Byron, 1816)
Introduction
Much is being written about the arrival of the Anthropocene, a concept that if accepted, means we have entered a new epoch in Earth history (Ellis et al.
2016
; Veland and Lynch
2016
). This epoch is one in which for the first time in geological history, a single species—
Homo sapiens
—has emerged as a planetary scale force, shaping both the surface morphology of the planet and the functioning of the Earth system itself. In relation with the Anthropocene, key debates revolve around whether we have in fact, entered this new epoch, if we have, can we delineate a particular moment when it commenced (an early or late-start), what evidence can or might be used to delineate the boundary between the Holocene and the Anthropocene, will the Anthropocene be 'good' or 'bad' (in particular, for humanity), how might we limit the negative effects of human interference on the Earth system and humanity and how does the arrival of the Anthropocene challenge us as individuals, communities, and as a species? It is not my intention to repeat here the various debates, issues, and arguments related to them as a rapidly growing literature tackles these and other relevant questions. However, Fig.
1
presents these as a framework against which the questions asked here, intersect.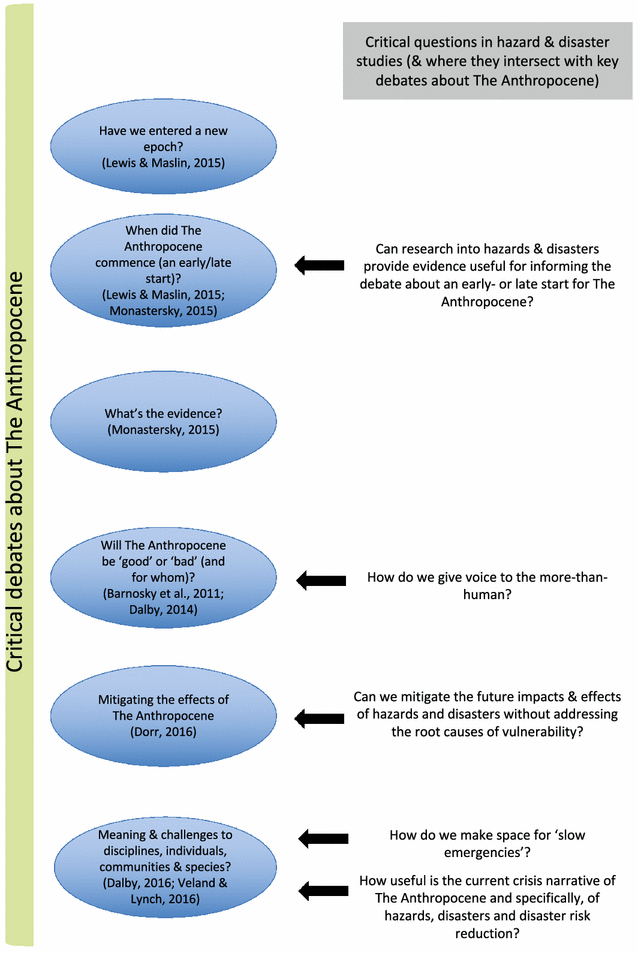 Commentators suggest that the arrival of the Anthropocene challenges established academic disciplines to reimagine their thinking and knowledge and to ask deep and critically reflective questions (Dalby
2016
). Furthermore, experts within different disciplines can make unique contributions to understanding the meaning and significance of the Anthropocene, including critically, the social sciences (Ellis et al.
2016
), despite recent claims to the contrary (Hamilton
2016
). I specialize in hazard and disaster studies having trained in 'earth hazard geosciences' and 'disaster risk reduction'. Earth hazard geosciences span the interface of the earth and human and social sciences. The former is generally concerned with an analysis of potentially hazardous events and processes such as earthquakes, tsunamis, droughts, bushfires, and so on, seeking to understand their causes, processes, distributions, frequencies, magnitudes, intensities, past histories, likely future occurrence, impacts, and effects (Arora and Malik
2017
; Hyndman and Hyndman
2014
; Nott
2016
; Somerville
2014
). Experts are interested in observing, measuring, monitoring, modelling, and forecasting these potentially hazardous events. This work intersects with, and helps to inform the disciplinary work of land use and urban planners together with engineers who seek to develop and build resilient places and structures. The latter is more concerned with understanding the underlying social, political, economic, cultural, religious contexts, and other structures, processes, and conditions that operate in relational scales from the local to the global that result in potentially hazardous events becoming actual disasters (Wisner et al.
2004
). Such human and social work goes further in that it also seeks to understand how we might create and enable more resilient communities, empower people to reduce their own vulnerability, and live with and tolerate risk, thus also contributing to the work of disaster risk reduction (Nunn
2014
; Satake
2014
). Clearly, to address such a wide range of issues and topics, hazard and disaster studies necessarily draws upon experts, knowledge, theories, philosophies, methods, tools, and approaches from a variety of established and emerging academic disciplines (Fig.
2
). Although Fig.
2
presents these as distinctive disciplines, in truth, the boundaries between them are blurred with experts often crossing between them, deploying theories, approaches, tools, and methods from closely related fields.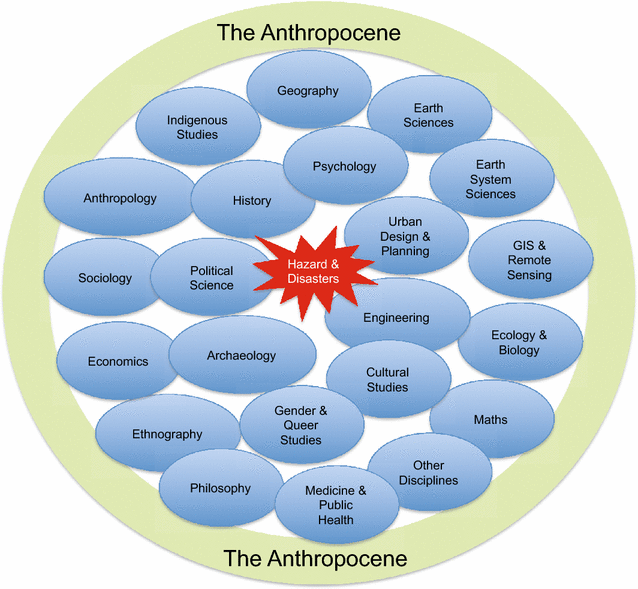 This paper is a response to the challenge of asking what can scholarship—in this case, in hazard and disaster studies, contribute to our understanding of the Anthropocene? This is important, because the most negative of the dominant Anthropocene discourses is one of crisis, disaster, insecurity, and a rapidly destabilizing planet (Clark 2014). Such a paper could take many forms and directions. However, here, five critical review questions that can help make sense of the Anthropocene and explore its meaning for the professional work of hazard and disaster theorists and practitioners are presented. The purpose of articulating these questions and presenting a response is to provoke thinking and robust discussion and to encourage other experts of hazard and disaster across the disciplines to expand upon them and to identify others not examined here.
The first question considered is how useful is the contemporary 'crisis narrative' of the Anthropocene for understanding the planetary history of hazards and disasters, and is the modern language of disaster risk reduction useful for understanding past disasters? Second, how do we give voice to the more-than-human1 experiences of disaster in the Anthropocene? Third, can we avoid or prevent the worst impacts of future hazards and disasters within the Anthropocene without addressing the root causes of vulnerability? Fourth, with all the noise and media flare of the 'rapid and sudden onset disaster', how do we make room for recognizing, understanding, and addressing 'slow emergencies' and what do slow emergencies mean for understanding hazard and disaster in the Anthropocene? Finally, can experts of hazard and disaster contribute to the debate about the early or late-start date for the Anthropocene?
Before addressing these questions, I provide a short review of the fields of hazards, disasters, and disaster risk reduction to elucidate the research trajectory that has brought us to where we are today, and how the contemporary fields of hazard and disaster are built upon the expertise of numerous disciplines. This establishes the foundations that bring me to ask the five critical review questions posed.
Brief review of the research trajectory of the fields of hazards, disasters, and disaster risk reduction
Questions about and research into hazards and disasters is not new. Throughout history, individuals have explored and written about hazard events and disasters. Ideas about hazards and disasters may be broadly grouped into the 'pre-enlightenment' and 'post-enlightenment' periods.
Early pre-enlightenment work, at least in the west, focused on the ideas of pre-Socratic philosophers such as Homer who argued hazards and disasters were caused by the Gods as punishment for our wrong doing and who placed demands on the mortal. Our responses to these determined our positions in the afterlife. These works did not explore the possibility of earth system processes as the cause of hazards and disasters. This thinking shifted with later Classical Philosophers such as Plato, and Strabo, who speculated about natural world processes' causing hazards and disasters. Starbo in his work Geograhica explored the physical and political geography of his world. Within Geograhica are references to various natural hazards. Strabo considered that earth processes might be responsible for some of the extreme events experienced by communities that he visited and learnt about.
Western thinking shifted abruptly following the Lisbon earthquake and tsunami of 1755. As the enlightenment unfolded, philosophers such as Voltaire asked deeply reflective and critical questions about the nature of hazard and disaster, proposing the causes as a hybrid between processes occurring in the natural world coupled with concepts of faith and religion (Dynes 1999). These ideas were hotly contested. Interestingly, a combination of Voltaire's thinking and the consequences of the 1755 Lisbon disaster resulted in the development of the discipline we now call 'seismology'.
From the 17th to early 20th centuries, there was a rapid development of the scientific method and thinking, and the field of geology emerged and contributed much to our understanding about hazards and disasters. Debates raged between religious (Christian) explanations for hazards and disasters attributing them to divine punishment and scientific explanations attributing them to earth system processes, the causes of which were speculated upon. Geological work resulted in the idea of 'catastrophism', later contested and abandoned and perhaps recently, re-found. Description of the natural world was followed by the development of theories, followed by exploration for evidence and measurement. With the arrival of the 21st century, fields such as geology have moved to numerical modelling and forecasting.
The 20th century began with a more-or-less exclusive scientific framing of hazards and disasters—consequences of the classification of the Earth into four systems (the atmosphere, the lithosphere, the hydrosphere, and the biosphere) (Smith and Petley 2009). However, two seminal works laid the modern foundations for the study of hazards and disasters—Prince (1920), White (1945).
In 1917, a military ship loaded with explosives moored in Halifax Harbour caught fire and exploded. The explosion was so large and it caused a major habourside fire and a tsunami. Over 2000 people were killed. Prince (1920) sought to understand this disaster and for the first time, he explored the role of human behaviour and decision-making in how the events unfolded. This socio-behavioural approach was the first of its kind and laid the foundations for understanding human contributions (the social dimension) of hazards and disasters. This work, however, focused on a technological disaster. This was followed by an enormously influential study by Gilbert White (White 1945). White, a Geographer based at the Chicago School, explored human dimensions and adjustments to floods in the United States and realized that disasters were really a sociological process, whereby underlying aspects of vulnerability due to political, planning, economic, and other socio-demographic processes amplified vulnerability to hazards—in the case of floods triggered within the earth system.
From the mid-20th century, the field of hazard and disaster research splintered into two major paradigms: the 'hazards' and the 'alternative'. The hazards paradigm captured the physical and engineering sciences and the alternative hazards paradigm focused on (successively), behavioural, development, and complexity sciences (Smith and Petley 2009). The hazards paradigm places emphasis on the physical environment with earth scientists, physical geographers, physicists, mathematicians, and other closely related discipline experts driving forward research into the physical processes of hazards, their occurrence, mechanisms, frequencies, and behaviours. Here, vulnerability to hazards is viewed as a linear, negative outcome of exposure to a hazard, measured potential of impact and loss, and realized impacts of hazards. Geophysical agents are the focus. This led to the involvement of engineers, urban planners, and other experts exploring ways their fields might mitigate the risks associated with hazards prompting the development of highly technocratic solutions to risk and disaster management. Despite the best efforts of these physical and engineering fields, their efforts failed and people continued to die and losses increased across the planet.
This prompted the alternative paradigm combining political economy and political ecology with traditional physical system approaches. Consequently, research focused on investigating hazard, risk, and vulnerability in a societal context. The main aims have been to understand the underlying political, behavioural, social, economic, religious, and other societal processes that influence vulnerability and reduce resilience to hazards and disasters. Experts from anthropology, sociology, geography, history, economics, and political sciences, amongst others, have made major contributions. From the 1970s onwards, a succession of theoretical models from behaviour to development to complexity has been advanced by researchers across a number of disciplines that collectively, greatly improve our understanding (Smith and Petley
2009
). The evolutionary path and inter-relationships between these models are shown in Fig.
3
. With time, these models have evolved in complexity and have become attentive to the interconnections between natural environments and human societies and the feedbacks between them, at a range of scales from the local to the global. These models and approaches have evolved into those referred to as coupled human–environment systems. The current dominant approaches include vulnerability science (Adger
2006
; Calgaro
2010
) and resilience (Alexander
2013
) with a newly emerging field called 'transformation' (Pelling et al.
2015
). These approaches are significant because to truly understand the complexity of hazards and disasters, teams of interdisciplinary experts come together from across the physical-engineering-human sciences domains. The current United Nations International Strategy for Disaster Risk Reduction calls for such interdisciplinary work.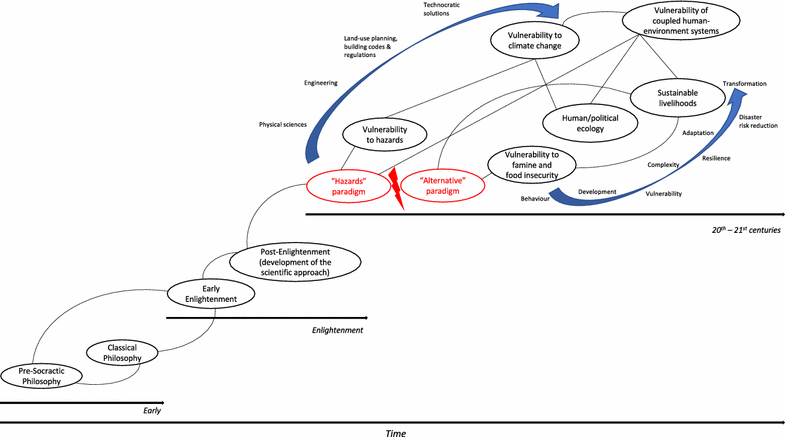 Having briefly reviewed this evolutionary trajectory, it should be immediately clear that scholars of hazard and disaster have much to contribute to understanding the meaning of the Anthropocene—especially given the crisis narrative that pervades much of the discourse.
Five questions for scholars of hazard and disaster to consider in relation with the Anthropocene
Summary and concluding remarks
In the traditional hazards and disaster work, disasters are a social construct that preference humans over the more-than-human species and systems. Whilst necessary for (anthropocentric) disaster risk reduction efforts, such framings are inadequate for responding to the wider challenges of the Anthropocene. Discussion about, and acceptance of the idea of the Anthropocene forces us to reflect critically on humanities relationship with hazards and the disasters they may cause, but also on the disaster of humanity for the planet and the more-than-human. Hazard and disaster scholars are well placed to do this work, but need to begin to pay attention to the more-than-human.
Will the future Anthropocene be bad and if so for who? Current trajectories indicate that the majority of the human population and most more-than-human species will be negatively impacted. Thus, issues of who gets to shape the future and policies and practices of human development and their impacts on the Earth System matter enormously, and in many ways, this will be shaped by a privileged few—mostly in the west (Calgaro 2010; Dalby 2016). Dialogue about a possible good Anthropocene and a technological future capable of saving us from a bad Anthropocene must stop quickly, since such narratives deflect from the critical work needed that focuses on the structural disadvantage, marginalization and disempowerment and poverty of the world's masses (Klein 2014). Furthermore, since detection, monitoring, observation and early warning systems and technologies are not widely available to the peoples of the planet, losses from future disasters will not be mitigated, so again, only a few benefit from this utopian vision of a good and opportunistic Anthropocene.
Having considered all of these questions new work by Dalby (2017) on security is providing novel constructs around inter-coupled environmental–social insecurity that challenge ways of thinking about hazard and disaster in the Anthropocene. Dalby (2017) contends that humanity is remaking its environments generating new forms of insecurity, even though insecurity and disaster have journeyed with humanity throughout our history. Through a succession of theoretical debates from the 1960s onwards, discussion of climate insecurity has come to dominate ideas of environmental security and the provision of relatively safe conditions for routine human life. Dalby challenges us to recognize the interconnection between the Earth System and social formations, since these greatly affect environmental (in)security and by definition, hazards, and disasters. This is important, since it very much appears that feedback loops (in socio-ecological systems) are 'trapping' individuals, families, communities, and societies in repeating cycles of insecurity—products of inequitable processes.
In conclusion:
"what is clear from earth system science is that the geological conditions that humanity has known for all of recorded history are nearly over. What replaces them will be a world substantially remade by human actions. The consequent geopolitical question is whether contemporary civilization can quickly morph into something that simultaneously slows the rate of ecological change while effectively coping with the perturbations already set in motion"(Dalby 2017)
In light of this, hazard and disaster histories cannot and must not be used to forecast or assess future risks and insecurities of the Anthropocene and we need new tools, methods, models, and data to understand future landscapes of disaster risk. Hazard and disaster scholars are well placed to assist in this effort.
Footnotes
1
In this paper, I refer to the 'more-than-human' as including two elements. First, is all other non-human species—that is plants and animals. Second, at a broader level and consistent with social science thinking, I refer to whole ecological and physical environments as 'more-than-human'.
Declarations
Authors' contributions
DDH conceived and wrote the manuscript. The author read and approved the final manuscript.
Acknowledgements
I thank Emma Calgaro for her insights and discussions on vulnerability and Siri Veland for critical analysis on the meaning of the Anthropocene for 'others'. I am extremely grateful to Lauren Rickards and Matthew Kearnes for permission to work with material they have presented but not yet published on the concept of slow emergencies. I thank the Australian Research Council for funding that has supported the work underpinning this manuscript thinking via Grant DP130100877. The Editor and two anonymous referees are thanked for providing feedback that greatly improved the manuscript.
Competing interests
The author declares that they have no competing interests.
Availability of data and materials
Not applicable.
Consent for publication
Not applicable.
Ethics approval and consent to participate
Not applicable.
Funding
This work is gratefully supported by Australian Research Council Grant DP130100877.
Publisher's Note
Springer Nature remains neutral with regard to jurisdictional claims in published maps and institutional affiliations.
Open AccessThis article is distributed under the terms of the Creative Commons Attribution 4.0 International License (http://creativecommons.org/licenses/by/4.0/), which permits unrestricted use, distribution, and reproduction in any medium, provided you give appropriate credit to the original author(s) and the source, provide a link to the Creative Commons license, and indicate if changes were made.
Authors' Affiliations
(1)
Asia-Pacific Natural Hazards and Disaster Risk Research Group, School of Geosciences, The University of Sydney, Sydney, Australia